Tanks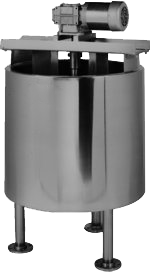 If you're looking for a tank to store or process your product, our tanks are up for the job. GPE tanks are made to the strictest industry standards and will meet or exceed your certification requirements. We serve a variety of industries, that make a variety of products. Whether you need to add a cover designed for pressure or vacuum applications, or a jacket for heating or cooling, GPE tanks are designed to give you the best version of your product, in large batches.

Tank Standard Features:
All GPE Tank Styles Feature:
#4 finish inside and outside

Sanitary flanged rims

Various certifications such as ASME and USDA
GPE Tank Outlet Features:
Exclusive GPE designs permit shorter outlet fitting
GPE Tank Support Features:
Stainless steel pipe legs

Tank Styles
Pharmaceutical tanks

Bioreactors

Heavy duty processors

Hold tanks

Vaccine tanks

WFI tanks

Storage tanks

Mixing tanks

Food processing tanks

Chemical blending tanks

Vacuum/pressure tanks
Tanks
Tanks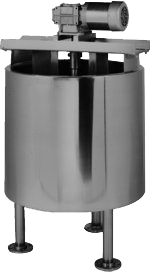 GPE offers a complete line of stainless alloy, batch process and transfer tanks for the Food / Dairy / Beverage, Pharmaceutical, Cosmetic, and Chemical Industries. Vessel specifications can include multi-zone jacketing, vacuum pressure options, single-motion, double-motion or twin action agitators, portability, standard or special Ra and electropolish surface finishes as well as digital readouts and controls for motors and temperature. Our custom designed tanks are quality-crafted to your specifications.
If you don't see a tank that meets your needs, or are overwhelmed by the choices, call us. Tell us what your specific needs are and let us put our decades of knowledge and expertise to work for you.