Heat Exchange/Evaporators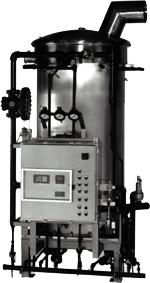 GPE offers two main styles of heat exchangers / evaporators.

Styles of Heat Exchangers/Evaporators
DR Series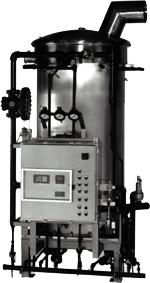 The DR Series Scraped Surface Heat Exchanger / Evaporator is designed to heat, cool, or concentrate a wide variety of products, including highly viscous or heat-sensitive products such as caramel. The DR Series achieves extremely high heat transfer rates by incorporating jackets on both the inner and outer walls of a narrow product annulus. This dual-jacketed design provides twice the heat transfer area of conventional scraped surface heat exchangers of the same size. During operation, the inner and outer wall of the product annulus are continuously scraped by rotor mounted blades, which prevents sticking or product scorching. These scraper blades also provide even heat transfer and homogeneity of product during continuous processing batch runs.
The DR is sized by height and diameter to your output requirements and concentration needs of the product. See the table below for some of the available sizes and their effective heat transfer area.
Sized To Your Production Requirements:
Heat Transfer Surface Area (ft2)
Length
5"
Diameter
12"
Diameter
18"
Diameter
24"
Diameter
30"
Diameter
36"
Diameter
42"
Diameter
24"
5.2
12.6
--

--

--

--
--

36"
7.9
18.9
28.3
37.7
47.1
--

--

48"
10.4
25.1
37.7
50.3
62.8
75.4
88
60"
--

31.4
47.1
62.8
78.5
94.3
110
60"
--

37.7
56.6
75.4
94.3
113.1
132
60"
--

--

--

--

109.9
132
154

Model 372/696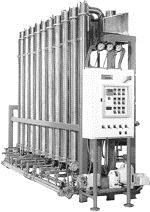 The GPE 372/696 Thin Film Evaporator is designed to concentrate many types of products from as low as 4% solids up to 99.5% solids, without the necessity of preheating the product or using a vacuum. The Series 372 and 696 units consist of one or more parallel tube concentrator elements. Each tube is dual jacketed to provide a heat transfer surface on both the inner and outer walls of the narrow product annulus. By spreading product feeds in a turbulent, thin film between two heat surfaces, extremely high heat transfer rates can be achieved.
Model 372 evaporator tubes have a 3" diameter product annulus, are 72" long and deliver 9.4 square feet of heat transfer surface area. Model 696 evaporator tubes have a 6" diameter product annulus, are 96" long and have 26 square feet of heat transfer area. Additional tubes can be added to expand production capacity.
Some Typical Production Rates:
| End Product | Ingredient Feed | % Solids | Lbs/hour* |
| --- | --- | --- | --- |
| Caramel Corn Coating | sugar, brown sugar, corn syrup, butter | 94 - 98 | 430 |
| Simple Candy/Syrup | liquid sugar | 82 | 400 |
| Hard Candy | sugar / corn syrup | 87 | 360 |
| Sorbitol | Sorbitol gums | 99.5 | 600 |
| Starch Base | starch, water condiment | varies | 1500-2000 |
*Output for a single 372 tube