Steam Jacket Kettles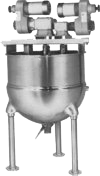 GPE hemispheric bottom jacket kettles are available with a wide choice of agitator configurations, designed to match your specific product mixing need. GPE agitator designs can handle everything from high shear mixing of high viscosity products, to the delicate lifting and folding action required with foods containing soft, whole ingredients; such as fruits and vegetables. Just describe your mixing needs and GPE will recommend an agitator configuration to meet your product and production requirements.
Kettle Standard Features:
All GPE Kettle Styles Feature:
Traditional high-polished sanitary finish
Sanitary flanged rims
All stainless steel product contact parts
GPE Kettle Outlet Features:
Exclusive GPE designs permit shorter outlet fitting
Sanitary Acme threaded or tri-clamp ferrule provided on stationary kettles
GPE Kettle Support Features:
Stainless steel pipe legs with fixed floor flanges
Available on stationary and tilting kettles
GPE Kettle Trunnion Style Features:
Free-pouring spout
Tilt handle on CD style
Hydraulic tilting on CHD
Style of Steam Jacket Kettles
Style TA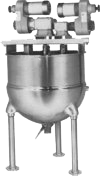 Designed for heavy duty processing, this strong, reliable agitator kettle features twin shaft agitation with a GPE twin shaft gearbox. This deluxe agitator provides finger-like scraper blades which scrape side walls and swirl the processed material toward the secondary mixer for continuous, all-inclusive agitation. For ultimate sanitation, the TA features exclusive GPE quick-disconnect couplings which permit the entire agitator assembly to be taken apart in a few seconds. Available in 40 to 1,000 gallon capacities. USDA approved design.
Style RA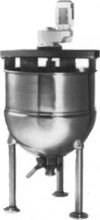 Designed for processing light to medium-heavy materials, this agitator configuration features a single anchor-type agitator frame with finger-type scrapers which carry processed material from kettle wall into two large "V" shaped baffle plates, providing "Figure 8" type blending action. Also features exclusive GPE quick-disconnect shaft couplings for easy removal and cleaning. Standard unit is available in 40 to 1,000 gallon capacities. USDA approved design.

Style DA/1 & DA/2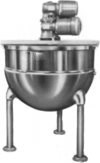 Incorporates the GPE double motion agitator design with counter rotating blades, which can be rotated singly or concurrently in the same or opposite directions. Agitator drive unit, mounted on channel shaped bridge support, is comprised of dual heavy duty hollow shaft gearhead motors in a piggyback configuration. Standard unit is available in 40 to 1,000 gallon capacities. USDA approved design.

Style INA

Designed to handle medium to heavy viscous materials containing solid particles that tend to settle or float, the GPE INA features a patented inclined single motion baffle/scraper mixer to provide a thorough, gentle lifting and folding action for uniform homogeneity of product. Agitator frame is readily removable; baffle is permanently mounted on drive support frame. Available in standard capacities of 60 to 300 gallons. USDA approved design.

Style INA/TA & INA/2/TA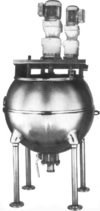 These models are designed to handle medium to heavy viscous materials containing solid particles that tend to settle or float. The patented GPE twin shaft inclined agitation features dual heavy duty TA type mixing motion to provide a thorough, lifting and folding action for uniform homogeneity of product. Agitators are readily removable for cleaning. Available in standard capacities of 100, 200, 250, and 300 gallons. USDA approved design.

Style INA/2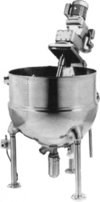 The INA/2 kettle, with gentle inclined agitator mixing action, solves problems experienced with other style mixers. This patented agitator's lifting/folding motion thoroughly blends and mixes with positive action. Particles and ingredients are quickly dispersed through the batch, and held in suspension to insure homogeneity. USDA approved design.

Style SA (F)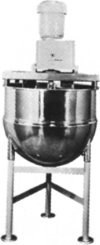 For applications not requiring robust mixing, the SA (F) is designed for slow speed blending. The fluted frame-type agitator provides ideal product movement for holding or cooling applications. Standard sizes from 40 to 1,000 gallons with larger sizes available on application. USDA approved design.

Style NEM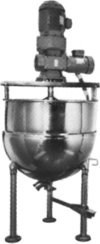 Specifically designed for products requiring high shear mixing in addition to sweep type blending, the NEM has a high-speed propeller in the center bottom for fast wetting out and mixing combined with a counter-rotating fluted sweep-type scraper agitator providing thorough blending of finished product. Heavy duty piggyback drive offers long term maintenance free operation. USDA approved design.

Style N

The versatile GPE N can be used to cook and/or cool most pumpable products such as fruits, vegetables, beverages, syrups and confections, juices, meat, poultry and seafood products, soups, and stews. These kettles can also be used in the production of pharmaceuticals, cosmetics, and specialty chemicals. Addition of a mixer greatly extends the range of applications. The N steam jacketed kettles are heavy duty processing units available in standard capacities from 5 to 1,000 gallons and in other capacities by special order. This jacketed stainless steel kettle permits complete product draining and facilitates cleaning and sanitation. Standard material for the kettle body is Type 304 or Type 316 stainless steel with a No. 4 sanitary finish. Other specialty finishes are available upon request.
If you don't see a kettle that meets your needs, or are overwhelmed by the choices, call us. Tell us what your specific needs are and let us put our decades of knowledge and expertise to work for you.
Kettle Options & Accessories
While the style of kettle you choose will have its own set of features, you also have the opportunity to choose from a few other options.
Instrumentation
Temperature recording and control can play a critical role in your processing technique. Our temperature sensing or control instruments can ensure you yield the desired results in heat transfer vessels. We offer:

A wide variety of temperature sensing control and recording instruments

Probe-type sensors for open kettles

Stainless steel flush mounted sensors for scraper blade agitator installations
Covers
We offer various styles of sanitary covers for all types of GPE vessels.
Two- or three-piece covers, either lift-off or hinged

Furnished with special fittings or openings. if necessary

Designed to include a vacuum/pressure style cover if required
Electropolishing and Finishing
We recognize the demand for high-quality, durable, ultra-sanitary finishes. We provide world-class mechanical finishes and can also provide electropolish finishes on all of our parts and products.